All about our Chocfetti
Mouths will water and stomachs will growl at the sight of these delectable edible party favors! Chocolates are among the favourite edible party favors, and can be personalised just for you - an extra touch that's simply too sweet to resist!
Our delicious range of Chocfetti is available in either Milk Chocolate Hearts, and American style chocolate in the form of Hershey Kisses. The chocolate hearts are currently available in a range of four colours, Silver, Gold, Pink, and Red, whilst the Hershey Kisses come in Silver only.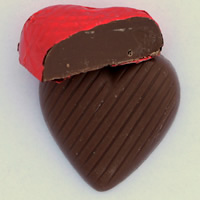 Our milk chocolate hearts contains 20%min Milk Solids / 30% min Cocoa solids, and are GM free (Made in the UK)
Each chocolate heart is approx 34mm in diameter and a chunky 10mm deep, weighing in at around 5.5g each, and taste DELICIOUS!
The Hershey Kisses are a classic American treat that are approx 21mm in diameter and around 24mm tall and famed for there unique shape. Simply pieces of tasty Hershey Milk Chocolate! Mmm!
How to create Chocfetti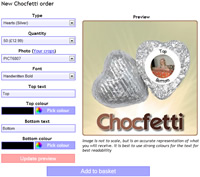 With our unique WYSIWYG (What You See Is What You Get) designer, there is no delay when it comes to creating an order, and us producing your order!
This means that we can produce and send your order within 3-5 working days, unlike some other sites that can take 4-6 weeks! Prices are from £11.99 which includes VAT, postage and packaging, however we can only send these to the UK.