All about Printfetti, pick one to learn more
What is Printfetti?
Printfetti is a unique Table confetti decoration, personalised with your photos on! Each piece of Printfetti measures approximately 25mm (1" in old terms) once it is cut, and they are all printed double sided with your photos.
Each order can consist of up to ten sperate photos which we print in weighted random order. We can also print Logos or Words (Click on Logo above to find out more) on your order, and even a mixture of both.
You can order in quantities of 250, 500, 750 and 1000, and if you require more you an add more to your order!
Shapes available

Printfetti is currently available in four different shapes. Hearts, Stars, Diamonds and Circles. At present we do not have the facilities for custom shapes, however this is something we are looking into, so please contact us.
We love FREE!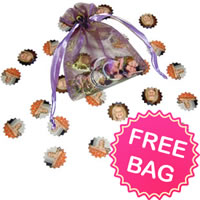 Don't you just love free stuff? So do we which is why with every Printfetti order you get FREE postage (UK only) and it's delivered in a gorgeous organza keepsake bag. Perfect for giving as a gift, or even for keeping your Printfetti as a souvenir of the event.