250 Heart confetti with your photos on - Printfetti (£14.99)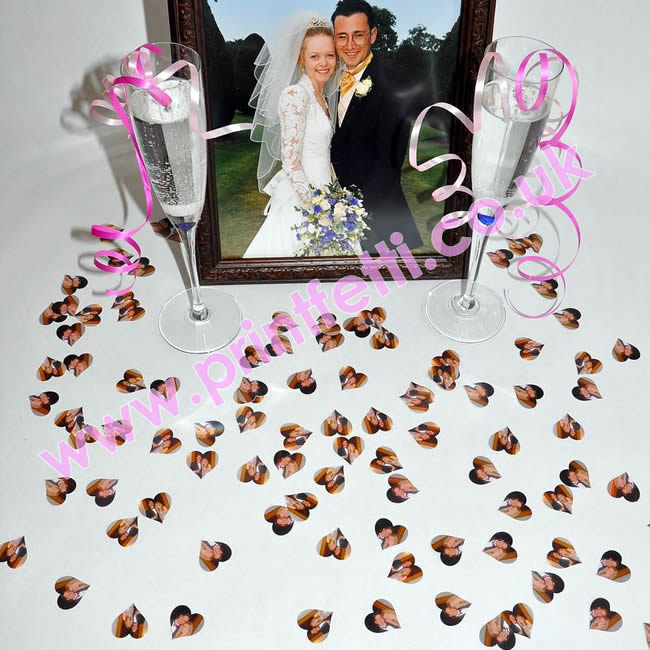 Heart shaped custom photo confetti, quantity 250. Great for weddings, engagements, anniversaries, Valentine's Day and all those romantic occasions.



All prices include VAT at 20% and postage within the UK
---
Latest ratings and feedback
10th July 15 at 09:12 by Juliet Raperport
Quality of product is great, delivery was very fast. I have deducted one star because the confetti was very expensive and I don't think 250 confetti will stretch very far!
1st June 14 at 10:50 by Susan Davidson
Fantastic - I am highly delighted with the goods delivered and I certainly will be using the your site again.
12th January 13 at 05:56 by jai joshi
Sort of satisfied with purchased, but the text let me down, the small writing quality is really poor to read
16th November 12 at 05:54 by Mary Jordan
Excellent service and fast delivery.
24th April 12 at 08:09 by jan dobson
excellent service
16th March 12 at 03:59 by Debbie Todd
Really good quality product. Just what I expected.
6th March 12 at 11:08 by Karen Jones
Really pleased with my photo confetti, which arrived promptly and looks great. Many thanks.
17th October 11 at 07:58 by Shelley Beckett
Absolutely fantastic!!! Everybody at my event loved it and wanted to know where I got it from, it was a real talking point!!!
7th August 11 at 10:29 by Valerie Allan
Excellent service & photo confetti a unique idea which adds that extra touch to a special day. Can recommend this product.